Alzheimer's disease has progressed slowly since Bob was diagnosed. After numerous troubling incidents with memory, erratic driving, and a bout of pneumonia that landed him in the hospital, it became clear to Bob's family that he could no longer live safely on his own.
Bob's family was suddenly left to ponder the dilemma so many caregivers face: "Dad needs a safe place to live. What are we going to do?"
When You Can No Longer Care for an Elderly Parent
When he was discharged from the VA hospital, Bob returned home but continued to decline. Of his four children, his daughter Pam was the only one who lived near him in Florida. The others lived thousands of miles away in Michigan. By default, Pam became her father's primary caregiver. Once it was clear that he was no longer safe living independently, the answer seemed simple. He moved in with his daughter Pam.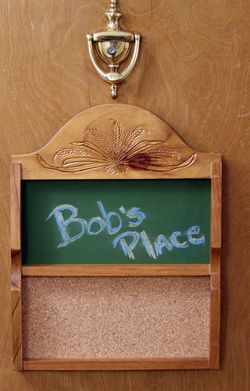 Bob's front door is welcoming and personalized.
From that moment, Pam fully understood that caregiving involves a mix of emotions. She felt guilty that she hadn't noticed something was wrong with her father sooner. Pam wanted to do the right thing but admits she was afraid to move him in with her. Would she know how to care for him? What if something happened? When he did move in, Pam wondered if she was doing enough. She still had to go to work. Sometimes the thought of an assisted living facility crossed her mind, but this thought was always accompanied by new waves of caregiver guilt.
Pam and her sister, Elizabeth, had a heart-to-heart talk. Elizabeth had previously worked in a nursing home and helped Pam see the situation in a different light. Her perspective was based more on rational, first-hand knowledge and experience, and less on emotions. It was obvious that their father needed to live in a place where he would be cared for by professionals around the clock. It would also be easier on him if he moved while he was in the earlier stages of Alzheimer's disease, rather than the more severe later stages. Their other siblings, Carole and Mark, supported Pam in this decision. They all agreed: Dad would experience less stress and be able to adapt more quickly to a new environment now. He could establish a routine that would make him feel safe and comfortable. Deep down, Pam knew her siblings were right. It was time.
Finding the Right Senior Living Fit for Dad
The entire family decided that Bob would move to a senior living community. Bob agreed, knowing that his daughter needed to return to work. The search to find an assisted living facility near Pam began, and she turned to AgingCare for assistance in finding the right home for her father. Her search resulted in a list of assisted living communities in her area, and they began the selection process.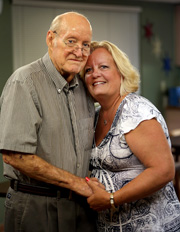 Bob and his daughter Pam
Pam and her father checked them out one by one, but they didn't just take quick tours. They stayed for a while to observe the residents and get a feel for the general atmosphere at each community. Then they found one that Bob particularly liked in Lakeland, Fl. Bob was especially fond of the apartment-style living and the fact that large windows provided wonderful views of nature. He would be able to look out his apartment windows and see trees, squirrels, songbirds and ducks every day.
Bob and Pam spent lots of time there and made return visits at different times of day to scope out daily life, the staff, accommodations, activities, and dining options.
They spent so much time at the community that Bob quickly became comfortable with the setting. In the end, the transition was easier because it was Bob who made the final decision.
Settling Dad Into a New Home
Bob settled in exceptionally well. For people with Alzheimer's disease and other forms of dementia, a daily routine can have a calming effect and provide a sense of of safety and familiarity. Each evening at dinner, Bob sits at his usual table, in the same seat with three other dining buddies. His routine is reassuring.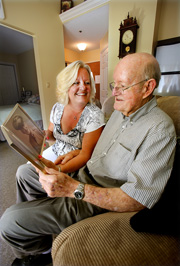 Bob proudly displays a photo of himself in uniform.
Bob's apartment is filled with mementos of his life, and though Alzheimer's has begun to rob him of his short-term memory, he proudly shows visitors pictures of his younger self in his Army uniform.
"This one was taken in Japan. I served from 1954 to 1968," he says with pride. "Here's one of my mom, and that's my dad. This photo is of my four children."
A twinkle appears in Bob's blue eyes as he speaks about his history, his family. These moments of recognition and memories are treasured now more than ever.
Life in a Senior Living Community
A quiet man by nature, Bob enjoys relaxing in his apartment, but he does venture out to visit with neighbors and partake in some of the community's many social activities. Bob goes to happy hour many nights. Although he never drinks, he enjoys listening to the music. The activities director is determined to get Bob to dance with her one of these days, but it hasn't happened yet. Making sure the residents have an enriching social life is her mission, and she loves every minute of it.
"I have the best job," she chuckles. "I get to make people laugh and have fun all day."
Bob also enjoys Westerns and regularly joins a group of residents to watch Bonanza. Some days he participates in other activities like movie nights, indoor golf tournaments, card games, bowling, and dominoes.
Today's activity is bean-bag toss—an adaptation of the popular game "corn-hole." While waiting for their turns, some in the group tap their toes to the beat of old-time country music: Hank Williams Jr. and the Oakridge Boys. One of Bob's buddies coaxes him to "come on over," but Bob doesn't join in today. Instead, he smiles, wags his head and walks on by. He's got more important business to attend to.
Family Time at Assisted Living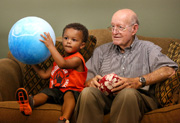 Bob with Jaydon, his 3-year-old great-grandson.
Today Bob has some special guests. Pam has brought Bob's great-grandson, Jaydon, for a visit. At age 3, Jaydon's favorite game to play with his great-grandpa is ball. Bob is happy to participate, a slight smile crossing his face as the wide-eyed boy squeaks, "Get ready to catch it!" Afterward, the three head to the on-site restaurant for a family lunch together.
After lunch, Pam takes her dad by the hand, with Jaydon in tow, and they walk back to Bob's apartment. When Bob moved in, they brought his favorite things from home: his parents' antique wall clock, his favorite slippers and hats, and his many family photos. Even though residents can bring furniture from their homes, Pam and Bob decided to buy new furnishings to provide a fresh start for his apartment. A comfy couch and leather recliner in the living room face Bob's TV and a picture window with a view of the nature area just outside his building. His new bedroom is complete with a pillow-top queen-size bed. A kitchenette with a refrigerator and microwave makes for easy snacks anytime.
Letting Go of the Guilt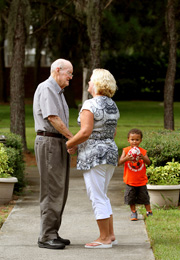 Pam and her father stroll along an on-site nature path.
Now that Bob has settled in, has Pam been able to shed the caregiver guilt that she's carried for so long? Not completely—the feeling still creeps in. She wonders if her dad is happy and worries that she doesn't visit enough. Pam drives by the community on her way to work every day and feels guilty when she doesn't have time to stop in. But she visits several times a week and makes those visits count as best she can.
In the meantime, Pam has found peace in knowing her father is content, safe and well cared for. Assisted living turned out to be the very best option for everyone involved, especially Bob.