Medications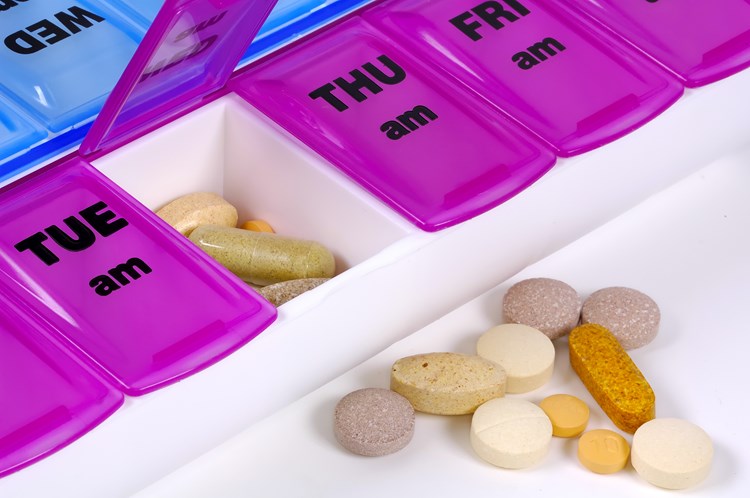 Managing a Loved One's Regimen
Medication Interactions
The average older adult takes five or more prescriptions drugs each day. In addition, many take various over-the-counter medications, such as antacids, laxatives or painkillers.
Seniors don't fit the stereotype of a drug addict, but as many as 17 percent of adults age 60 and over abuse prescription medications. Knowing the red flags to look for can prevent a serious accident.
Seniors are often prescribed many different medications to treat from arthritis to diabetes. Health experts are becoming increasingly concerned that all of these drugs may not only be unnecessary--they may also be unhealthy.
Nutritious foods and prescription medications seem like a match made in healthful heaven, right? Not necessarily. Even healthy foods can interact dangerously with common medications.
There aren't any truly clear cut answers when it comes to treating health conditions with herbal medications, but here are some important pros and cons to consider.
Medication Awareness
Extreme temperatures can affect the safety and effectiveness of both prescription and OTC medications. Follow these simple steps to properly store a senior's meds and ensure they're protected from excessive heat and cold.
A senior's prescriptions are often his or her lifeline to good health. It's crucial that they are taken correctly. It becomes increasingly important when a senior takes multiple medications, as that's when the potential for error happens.
Of the 20 medications that are most frequently prescribed to older adults, over half may increase fall injury risk.
Medication-related problems, such as drug interactions, are the fourth most costly "disease" after cancer, Alzheimer's and cardiovascular disease, according to a pharmacist who specializes in medication and prescription management for seniors.
Many seniors have trouble swallowing medications. These two proven methods make taking pills quick and easy.
Antibiotics can be useful against many different infections, but their overuse contributes to making certain strains of bacteria into drug-resistant "super bugs." Learn how to correctly use these medications and prevent resistance.
Rx Assistance
These state-run programs provide assistance to those who need financial aid to pay for their prescription medications.
This tool locates and provides contact information for prescription drug assistance programs that offer financial aid to people who need help paying for prescription medications.
When seniors are taking several medications, comparing pharmacy costs can really pay off.
The lure of internet pharmacies selling prescription medications online is obvious: cheaper drugs that are easy to get. But is it safe? Are the medications real, or counterfeit?
Learn more about Medications
Looking for something specific in Medications?
Ask a Question
Reach thousands of elder care experts and family caregivers
Get answers in 10 minutes or less
Receive personalized caregiving advice and support
Senior care by city
Show more cities