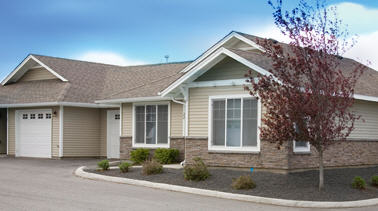 Sullivan Park Cottages is a Senior Living community for individuals who want to maintain an independent lifestyle, but would prefer the relaxed atmosphere of a senior community.
Located at the southeast corner of Fourth Avenue and Adams Road, Sullivan Park Cottages is just northwest of the Sullivan Park Care Center.
Our cozy community features 21 cottages, comprised of one- and two-bedroom units. All cottages come with a beautiful fireplace and an attached, one-car garage. Our cottages each have their own kitchen with full-size refrigerator and microwave oven, a private bath with barrier-free shower, private patios and room for a small garden.
Sullivan Park also features a 24-hour access private clubhouse with a fitness room, entertainment center and high-speed internet. Our state-of-the-art clubhouse makes it the ideal setting for fun socials with all the residents including a daily continental breakfast, happy hour, BBQs, sports watching and themed dinners.
Sullivan Park is a Prestige "Campus of Care." We offer a continuum of care from Independent Living, Assisted Living, to our own Skilled Rehabilitation Center.