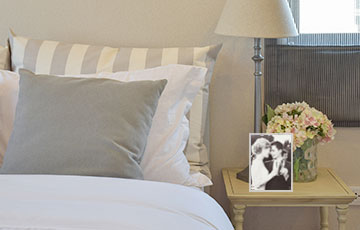 Friendly staff and a continuum of care characterize Stratford Specialty Care. Our 66-bed skilled nursing facility is a vital component in our community. Everyone, from residents, families and volunteers, can rely on our ability to deliver quality compassionate care.
Located at the edge of Stratford, our residents benefit from the serene, rural surroundings while also engaging in the community with regular trips to our local senior center, shopping trips in town and frequently invited friends and family for seasonal gatherings.
Private and semi-private rooms surround an inviting lounge and dining room. Parakeets in a cage tweet a welcome to visitors and Good Morning and Good Afternoon to those staying with us. On Wednesdays, our physician assistant brings her dog which is a favorite for those in our memory care unit. Pastors and ministers from a variety of denominations visit weekly for services. Stratford NRC is the Hamilton County hot spot on 4th of July where the annual fireworks show is launched.
Perhaps our most unique and enjoyable feature is the beautiful courtyard complete with koi ponds and a fountain, contemplative garden and butterfly attraction in the warmer months.
Trained therapists are providing care in physical therapy, occupational therapy and speech therapy and are able to work one-on-one with each resident guiding them toward increased independence. Therapists are also available on an outpatient basis welcoming patients from Jewell to Otho and every stop in between.
We would love it if you stopped by to visit!
Stratford Specialty Care is a non-profit Medicare and Medicaid certified skilled nursing facility. We are also a contracted provider for the Veterans Affairs Community Nursing Home Program.