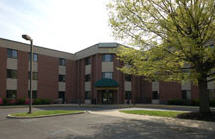 At South Jersey Health Care Center, our customized health care programs—which include seven-day-a-week sub-acute rehabilitation, specialized clinical services and long-term care—are complemented by a warm and supportive environment that enhances patients' well-being and quality of life.
In addition to around-the-clock care from a dedicated health care team, patients benefit from South Jersey Health Care Center's homelike amenities and services, comfortable accommodations and exciting recreational programs.
South Jersey Health Care Center is located across the street from Cooper Medical Center, the area's largest trauma center, in Camden, N.J.