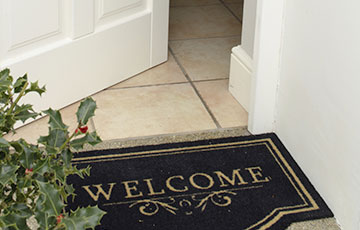 At Presbyterian Village of Fort Scott you're greeted by a two-story vaulted ceiling over the dining room. As you look over the balcony, you'll see the floor to ceiling windows that look out over the pond surrounded by walking paths and Kansas grassland which provides a spectacular view of Kansas sunsets.
Especially if you have better things to do than rake leaves, shovel snow and clean house, our apartment homes offer all the comforts of home without all the worries. You gain the freedom to do what you want when you want.
At Presbyterian Village, we'll take care of all that for you so you have more time to spend the way you want – like spoiling your grandchildren. It's what active retirement community living is all about – gaining the freedom to do what you want, to live the way you want to live.
You can free yourself of the everyday home maintenance that gets in the way of enjoying the hobbies and interests you love. Try something new, socialize or relax and enjoy the life you've earned. Our social and leisurely lifestyle will allow you to participate, follow your interests or travel with renewed enthusiasm, while amenities located right on our well-manicured campus provides convenience just steps away.
Our finance plans enable you to select the rental plan or become a depositor with funds in reserve if your level of living changes. Additionally, our deposit residents enjoy a reduced monthly fee if assisted living services are needed. You may also find that the cost of living in the Midwest is more affordable than some of the retirement "hot spots." We'll be happy to help you make the comparison to your costs now and living at Presbyterian Manor of Fort Scott.
We have been serving area residents since 1994. We're proud of the reputation we have earned for our commitment to providing quality retirement community living.