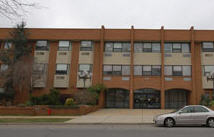 With its leading-edge clinical programs, personalized care plans and expert care teams, CareOne at Wellington is the right choice for patients who need sub-acute rehabilitation (offered seven days a week), specialized clinical care or long-term care.
CareOne at Wellington also features a variety of services and amenities to enhance patients' comfort and well-being, including social activities, a coffee bar, a chapel and a lovely garden for relaxation. Spacious rooms provide an optimal healing environment, while polished décor and homelike touches put patients at ease.
Located in Hackensack, N.J., CareOne at Wellington is located minutes from Hackensack University Medical Center and Routes 4 and 17.