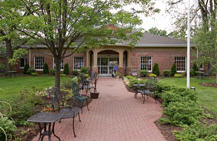 Located in Cresskill, N.J., CareOne at Cresskill is a 100-bed center that offers a full range of specialty services, seven-day-a-week rehabilitation services and long-term care programs in a comfortable, home-like environment.
At CareOne at Cresskill, patients benefit from unique services that enrich the body, mind and spirit, including personalized, physician-driven programs, contemporary recreational activities, pet therapy, a full-service spa, fine dining and more.
CareOne at Cresskill is conveniently located close to the Garden State Parkway, Palisades Parkway, Route 17 and local hospitals.