Schlepping bulky grocery bags, lifting heavy pots, spending hours on your feet in front of the stove—most of us don't give a second thought to the physical and mental work that goes into preparing a home-cooked meal. But for an aging loved one, these seemingly simple tasks can be very burdensome, leading to compromised nutrition and health.
Maintaining access to nutritious meal options is one of the biggest challenges faced by an older adult who wishes to remain living in their own home. As their ability to prepare health meals for themselves declines, they often turn to take-out, frozen meals and pre-packed products for sustenance. These foods tend to be high in calories, loaded with salt and sugar, and contain a large number of artificial preservatives.
One in four aging Americans are affected by poor nutrition, according to the Department of Health and Human Services, and as many as 80 percent of people 65 and older are combating chronic conditions that can be exacerbated by an unhealthy diet.
Nathan Allman vividly remembers his family making the decision to place his great-grandmother in assisted living because she had become so malnourished while living on her own. At the time, the Allmans didn't think they had any other option, but that didn't make the decision any less heart-wrenching.
Nearly a decade later, their situation—one that so many American families are faced with—has inspired an idea that could help countless older adults avoid a similar fate.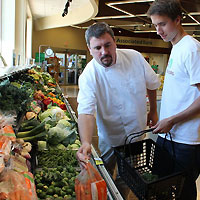 "I was reflecting on our experience with my great-grandmother and came up with the idea for a service that puts a professional chef in independent seniors' homes to prepare nutritious meals for them," Nathan says "I grew up cooking in my parents' (Barrett & Lisa Allman) restaurants so a food service business was a natural fit."
As so, Chefs for Seniors, a service that provides home-cooked meals for older adults who live at home, was born.
Personal Chefs for Those on a Budget
The idea is simple: a professional chef plans the meals, shops for the ingredients, then goes to the client's house to cook.
The concept of a personal chef, of course, is nothing new, but such services are often perceived as a luxury that can only be afforded by the celebrity class, not a realistic option for older adults with fixed incomes. That's why the Allman's knew they had to make cost-effectiveness a priority. In addition to the cost of the ingredients, single clients pay between $55 and $75 per week, depending on whether they need the chef to shop for them, for an extra $15. The cost for couples ranges from $80 to $100, according to Nathan.
When compared to the typical cost of hiring a personal chef—which can quickly climb into the hundreds of dollars per week—Chefs for Seniors seems much more affordable.
Each new client is visited by the co-founder of the company, Barrett Allman, Nathan's father and longtime professional chef. Barrett uses his experience to come up with an individualized menu that caters to each client's personal preferences and dietary needs. While the company has a database of recipes that clients can choose from, there's room or the clients to play.
"Some people have more opinions than others, and will even share recipes, while some clients will just say 'surprise me,'" Nathan says.
More Than a Meal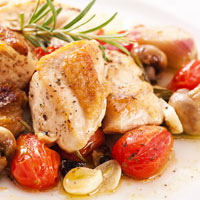 Adhering to a nutritious meal plan can do wonders for an older adult's physical well-being. Having healthier meals cooked for him and getting regular exercise enabled one Chefs for Seniors client to go off of the blood pressure medication he'd been on for nearly a decade.
But the benefits of a home-cooked meal can extend far beyond the food's nutritional value.
Nathan remembers one woman whose arthritis was so bad she could no longer make her family's famous lasagna. Her chef was able to recreate the recipe with such precision that it brought tears of joy and memory to her eyes when she took her first bite.
Another chef buys flowers each week for a man whose wife always used to have fresh-cut flowers in the house. The flowers are paid for by the man's daughter—a little reminder that he is loved and cared for, even from far away.
And simply having someone to talk to—even if it's just for a few hours a week—can do wonders for an older adult who feels isolated. Loneliness has reached near epidemic proportions in the aging population. Nearly 20 percent of older Americans live alone, and feeling lonely can increase an aging adult's risk of physical and mental decline by 59 percent, according to a University of California, San Francisco study.
"The relationship between the senior and their chef is very important, says Nathan. "Especially during the cold Wisconsin winters, when seniors don't get out as much, their chef may be the only person they see in a day. Having a friendly, familiar person to chat with while they're cooking is a really special thing."
Meal Resources for Seniors and Caregivers
Chefs for Seniors is still a local operation, and only has the capacity to serve older adults in the Madison, Wisconsin and Rockford, Illinois areas. But there are plans to grow. "The need for a service like this extends beyond our area," says Nathan. "And we are pursuing options for expansion."
In the meantime, there are other some ways that aging adults can get help with meal preparation.
Community Resources
Meals on Wheels is a well-known organization that provides meals to more than 2.5 million older adults a year. An older adult must apply to be a part of the Meals on Wheels program, the cost of which varies based on their financial situation. Depending on an individual's needs and the area they live in, pre-made meals may be delivered to the home or a local senior center. Some Meals on Wheels branches also perform periodic visits and safety checks to help homebound adults stay socially connected and safe in their homes.
Meal Delivery Services
The Internet has fueled the rapid growth of the meal delivery industry. These companies offer a range of products and services. Some, such as Blue Apron, HelloFresh and Plated, provide subscribers with the recipe and all of the ingredients necessary to make a healthy meal at home. Others like Magic Kitchen and Home Bistro deliver pre-made meals, some of which can be customized to suit specific dietary needs (e.g. low-sodium).
Home Care
Many home care agencies have professional caregivers who can perform different housekeeping and meal preparation duties for an aging adult who wants to stay at home but is having trouble with the day-to-day tasks of living independently.