In honor of Valentine's Day, four of your fellow caregivers and AgingCare's founder, Joe Buckheit, have decided to "share the love" with the entire AC community by recounting real-life love stories they've either heard or experienced with their aging family members.
A War Bride
As told by JoAnne, aka AgingCare member, Jam:
"In 1944, three young women lived together in a local boarding house as roommates. On weekends they would frequent the local Officer's Club for entertainment and the opportunity to meet a future husband.
"One of these ladies was June, my future mother-in-law. She was 20 years old at the time and worked as a draftsman at the Kaiser Shipyards in San Francisco. She was a lovely, outgoing woman who won the title of Miss Kaiser Shipyard in a contest with entrants from California and Georgia. Since June was underage, she often borrowed her roommate's ID card to gain admittance into the Officer's Club.
"One night, a handsome lieutenant asked her out on a date, but she declined, not because she wasn't interested, but because her roommate had dated him previously and she didn't want to interfere. The roommate eventually gave June her blessing, and she accepted the next time the officer asked.
"It was on that first date that the Lieutenant asked her to marry him! She made him wait a few weeks before accepting his proposal, but they were wed at her parent's home in January, 1945.
"After the war ended, the newly-made Captain and Mrs. moved back to Missouri where they established a home and raised a family. They loved each other deeply and were together 52 years before he was taken from her in 1997. It was through her words of love that I realized 'love at first sight' really does exist."
Due to Alzheimer's disease, June's memories began to fade, but she continued to hold onto the love she had for her Captain.
JoAnn continues:
"When her memory was still intact, she would often have a tear in her eyes and tell me how much she missed him. My hope is that their son and I continue to live the same kind of love that they had together."
Hold My Hand and Never Let Me Go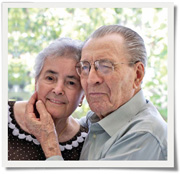 Joe's grandparents share a tender touch
As told by Joe, AgingCare's founder:
"My grandparents shared a deep, abiding love. They always took advantage of every opportunity they could to hold hands. As if compelled by some unseen force, their hands always found one another. They clasped hands while walking, while reading—even while they slept. The memory of this simple, yet profound symbol of their enduring bond stays with me to this day."
When Words Fail, Music Speaks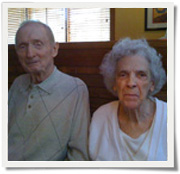 Nancy's parents were married for nearly seven decades.
As told by Nancy, aka AgingCare member, NolesLover:
"My mother and father met at a dance in the winter of 1944. They saw each other from across the dance floor. Each of them had their own thoughts.
"My mother thought to herself, 'Wow, I wonder who that hunk is.'
"My father thought to himself, 'What a beautiful girl. I have to meet her.'
"He introduced himself to my mother and they danced the night away. The rest is history, as they say."
But life had other plans for the winsome waltzers.
Nancy continues:
"My parents lived a wonderful life together for almost 60 years until my mother was diagnosed with Alzheimer's disease. My parents move into an assisted living facility, but could not live together because my mother wandered and she didn't really know who my father was anymore.
"It was heart-breaking to watch their relationship disintegrate before our very eyes, when they had been happy just a short time before. My mother passed away just one day before their 67th wedding anniversary."
The couple's love lives on through their children, Nancy and Tom.
The Everyday Valentine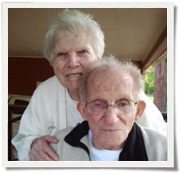 "I have many fond memories of growing up with two people who loved each other with all their being," says Vickie of her parents.
As told by Vickie, aka AgingCare member, Vic:
"My parents are so sweet. In the mornings, Dad used to bring my mom coffee in bed and they would share a small kiss or a light touch.
"They never did anything special for Valentine's Day. As Dad once told me, 'Your mom is my valentine every day of the year.'
As her father's mental and physical health has declined, Vickie's mother has taken it upon herself to keep up the tradition he started, all those years ago.
Vickie continues:
"Even now, every morning, Mom hugs and kisses Dad. She tells him how much she loves him. In the afternoons, she brings him a Hershey's kiss. They sit side by side, sharing the chocolate and a brief moment of peace with one another."
A Child's Enduring Love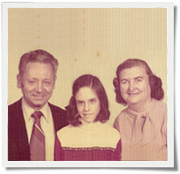 One of Karen's favorite photos: her as a child, with her beloved mother and father
As told by Karen, aka AgingCare member, krusso:
"I love my parents. As the years went by and we all got older, I started to take care of them in their home until Dad passed away in 2009.
"I am taking care of my beloved mother now, who lives in a nursing home with dementia. During her lucid moments, she still knows me and where she is, but other times she doesn't. It breaks my heart to see her like this.
"It's hard, but when I look at pictures of all of us from when I was younger, I am reminded of the 'good old days.' I'm so grateful she's still with me, and I will continue to visit her in the nursing home until the day she dies.
"The one thing I wish I could tell her is: 'I love you, Mom, with all of my heart and soul.' "