Lauren Miller Rogen has had plenty of first-hand experience with Alzheimer's disease. As she puts it, "Alzheimer's has been a part of my life literally for as long as I can remember."
As a young girl, Lauren experienced both of her maternal grandparents' struggles with progressive cognitive decline and how her family rallied to support them. Sadly, Lauren's mother, Adele Miller, was also diagnosed nine years ago with Early Onset Alzheimer's disease at the age of 55.
Like most people, Lauren did not fully understand the debilitating progression of this disease or the intensive care that sufferers require until it struck very close to home. "Not until it was my own parent did I really get a front row seat," Lauren admits. "My mom was diagnosed and she got sicker and sicker; it became so clear. She now needs someone with her literally 24/7. It's outrageous."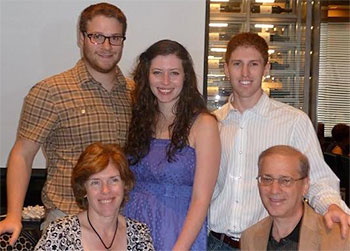 Lauren Miller Rogen with husband Seth Rogen, mother Adele, brother Danny, and father Scott.
Although the family was understandably focused on Adele's wellbeing at first, Lauren began to notice that her father was not faring well. He had retired to care for his wife full-time, but it was taking a toll on his physical and mental health. "Him being alone with her at home—it truly seemed like it was killing him," Lauren says. "Every time I went to visit, he seemed more and more tired. It seemed like he was getting confused too, and that's not who my dad is at all."
The goal was to care for Adele at home for a long as possible, so placement in a long-term care facility was not an option. Fortunately, the family was able to come together and devise a specialized care plan that included round-the-clock in-home care for Adele and plenty of respite time for her husband.
"I think that so many people that are in this situation don't know where to go. My dad didn't know where to go," Lauren says. "It's been a long road the last nine years, but we have the best of a terrible situation."
It was this personal experience with caring for her mother and ensuring that her father was also looking after himself that led her to become involved in Alzheimer's support and awareness on a larger scale.
Fighting Alzheimer's with Comic Relief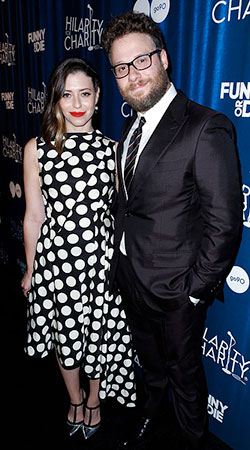 Lauren and Seth on the red carpet at the 4th Annual HFC Variety Show: James Franco's Bar Mitzvah
In 2011, a friend approached Lauren about developing a fundraising event for Alzheimer's disease. The initial goal was to only host a single event that took the form of a star-studded variety show, but they received a surprising response from the public. Lauren and her husband Seth Rogen were contacted by countless young people who were grateful for their public efforts against Alzheimer's.
Lauren had been feeling somewhat alone in her experiences with her mother's decline, but the outpouring of support from other young people who could so easily relate gave her solace and a bit of an epiphany. "There are all these people out there," Lauren realized. "This shouldn't just be an event; we can do so much more. We can help people and create programs where they can get involved."
Hilarity for Charity (HFC) blossomed into an ongoing initiative with annual variety shows in Los Angeles featuring prominent comedians, musicians and actors. At first blush, comedy may not come across as the 'proper' approach to such a devastating illness, but humor is what Lauren, Seth and her co-founders excel at. Although it was not intentional, comedy ended up being the perfect fit for drawing a younger demographic to the cause.
"Comedy attracts young people, and I was younger when I was affected by Alzheimer's," says Lauren. The public tends to classify Alzheimer's as "an older person's disease," which automatically limits the contributions that younger generations can make to the fight against Alzheimer's and other dementias. "There wasn't anyone focusing on how young people play a part in this disease or how they are affected by it," Lauren recalls. "We felt that's where our voices best fit in."
Since its first event, HFC has expanded to include sponsored comedy events, a college program called HFC U, and online Alzheimer's and dementia support groups for caregivers under age 40.
Dementia Care is No Laughing Matter
As Lauren knows, caring for a loved one with Alzheimer's disease and other forms of dementia can be extraordinarily taxing. That is why HFC partnered with Home Instead Senior Care to create the Alzheimer's and Dementia Care Relief Grant Program. This program is available in the United States and Canada and offers caregivers with limited support free in-home care services for their loved ones. Access to specialized care increases the likelihood that caregivers will get the respite and assistance they need in order to maintain a happy and stable household.
Since January 2015, the HFC Home Care Grant Program has provided 24,700 hours of care to dementia caregivers. This is a point of deep pride for Lauren. "We've given away thousands of hours of free at-home care to people who wouldn't be able to have a break, keep their loved ones at home or feel any sort of normalcy," Lauren stresses.
In addition to the physical and mental costs of progressive neurological diseases, these families face exorbitant and typically long-term financial consequences. "My family, we're fortunate that we are comfortable enough that we can help my mom get the care she needs and deserves. If we weren't, we wouldn't be able to afford home care for her," Lauren admits.
Surpassing the Stigma
According to the Alzheimer's Association, an estimated 5.3 million Americans are living with Alzheimer's. An American develops this disease every 67 seconds, yet widespread public discourse on the topic is still limited.
"I think the biggest issue is the stigma surrounding Alzheimer's," Lauren states. "People who are diagnosed with it or caring for someone with it won't talk about it. They're ashamed, they're overstressed, and they don't have time to talk about it."
The prevalence of Alzheimer's and other dementias will only grow as the population of seniors in the United States continues to increase. Lauren emphasizes the fact that these conditions don't just affect the person who is diagnosed. Their caregivers, family members and friends are often overlooked collateral damage. They struggle to find adequate support and information. They also plead for a cure.
"People should be talking about this all the time," Lauren urges. "The walks for Alzheimer's should shut down entire cities. As Seth said in his speech to Congress a few years ago, 'Americans whisper the word Alzheimer's because the government whispers the word Alzheimer's.' We need to be shouting it from the rooftops."
HFC encourages individuals of any age to do whatever they can to help further the cause for adequate support and effective new treatments. Even those who are short on time can take a few minutes to pen a letter to Congress about the importance of medical research, spend a few days each month volunteering at memory care facilities and adult day care centers, or spread awareness on their social media accounts.
Each person can do something—even if it is a small gesture—to contribute to this fight. Average people may not have the medical secret to preventing or treating Alzheimer's, but they do have the ability to demand change. "I like to focus on what I can do," Lauren reckons. "I feel so incredibly lucky to get to help people. I never thought I would get to do something like this."