I needed a quick and easy post for today since my kids are taking me out for dinner tonight, and I have lots of catching up to do after my Tuscan holiday. So here we are again at what's becoming one of my favorite subjects.
Here's what I wrote in my first bidet post back in February:
"The bidet is a fixture in bathrooms the world over, but it has never really caught on in the U.S. Instead of washing with water after relieving ourselves, Americans would rather deforest millions of acres in order to produce toilet paper."
We think bidets are too European, too Parisian. We suspect they have something to do with s-e-x.
But more and more people—myself included—are beginning to tout the bidet as a safer, more effective way for seniors to clean themselves.
U.S. toilet bidet attachment
Here's the inexpensive American-manufactured bidet attachment I've added to the three toilets in my house: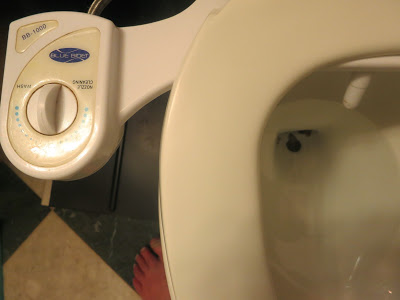 European freestanding bidet
Here's a photo I took in my bathroom in the apartment we rented in the Tuscan town of Cortona that has two separate stations: a bidet and a regular toilet.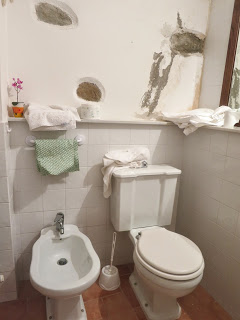 The verdict
For the elderly, certainly for this old man, having to transition from one station to another is both annoying and dangerous. Slips in the bathroom are among seniors' most common falls. In addition, the bidet attachment to an existing toilet takes up much less space and costs a lot less to install.
The average freestanding bidet will most likely (unless you are a plumber) require installation services of a licensed professional. These models are typically made of porcelain and need careful installation. The average cost can set you back between $2,500 and $3,500.
I just checked on Amazon, and the prices for the bidet attachments fall in the $25-$70 range. My Blue Bidet cost me about $60.
But I did find that the ability to adjust the water temperature was a plus for the freestanding bidet.
Medicare and the bidet
Earlier this month, I received an email that I got from a reader named "Bill," who has been caring for his 91-year-old father who now lives in Bill's house. Recently, his dad fell in the bathroom which led to a month in rehabilitation. When his dad returned home, Bill, on the advice of the hospice people, signed up for a home visit by a nurse's aide who specializes in helping aged and handicapped people deal with bathroom issues, mainly getting in out of the shower.
On her initial visit, the nurse's aide said Bill's dad was suffering from hemorrhoids because he wasn't cleaning himself properly. Having read my blog post on toilet bidets, Bill asked her about installing one of them. She knew nothing about bidets, but he went ahead and installed one.
I just heard from Bill. Seems the home visits by a nurse's aide are limited to 60 days of Medicare coverage. Since Bill's dad needs to avoid the risk of falls by having help getting in and out of the shower, Bill will continue to pay for the nurse's aide. But thanks to the toilet bidet and his dad's relative inactivity, Bill figures once a week will be enough.
He added that after some initial misgivings, his dad now loves the bidet.
He complained about a possible leak in the toilet, but I think I may have solved the problem. I told Bill that his dad is probably doing what I did initially—raising up on one haunch when cleaning himself just as he did for years with toilet paper. That can cause the bidet to squirt water out onto the floor. The answer? Plant yourself firmly on the toilet seat and insert your hand between the legs for cleaning.
Isn't it wonderful, the information you get on this blog?