At some point, we all consider the kind of legacy we wish to leave behind. We draft wills and engage in estate planning to allocate our remaining wealth and cherished personal possessions to the ones we love. But what happens to our stories? Our memories?
Photographs, home videos, letters and journals can provide a narrow glimpse into a person's life, but how do you preserve their essence for others to enjoy—especially future generations? This is exactly what Karl Fry and filmmaker Mark Burson set out to do when they founded A Wonderful Life Productions (AWLP).
Friends and relatives can always recount their own versions of an experience and retell others' tales, but the primary source will always be the most valuable. The objective of this innovative company is to help people truly preserve their loved ones' legacies by recording them on film. "The best way to capture somebody's story is in their own words when they're alive to tell it," Fry says.
There will always be conversations that we wish we had had with those who have passed, and yet we still struggle to make these discussions a priority. "We all have aspirations of this conversation, but our greatest obstacle is that we always feel we have more time," Fry says. "We do things backwards as a general rule—we try to capture people's stories after they're gone. However, the main ingredient is missing: them."
Fry is an advocate and self-proclaimed crusader for preserving legacies and immortalizing people's stories. Chronicling a life story through the person's own words and unique demeanor makes AWLP's final result even more valuable. "We chose to use film because it satisfies more senses than a book," Fry says. "It has motion, includes the sound of the person's voice and it conveys mannerisms and a sense of the person's personality. It fills in more dots than a simple photo album, but through a shorter and richer experience."
While many people are shy or uncomfortable with the idea of being on camera, Fry and Burson make a point of helping the "star" of each film feel at ease. Filming is typically done in a familiar location, such as a person's favorite arm chair in their living room. The setting is intimate, rather than intimidating, with minimal equipment and few people present.
Here is a photograph from the set of a star's film session with AWLP: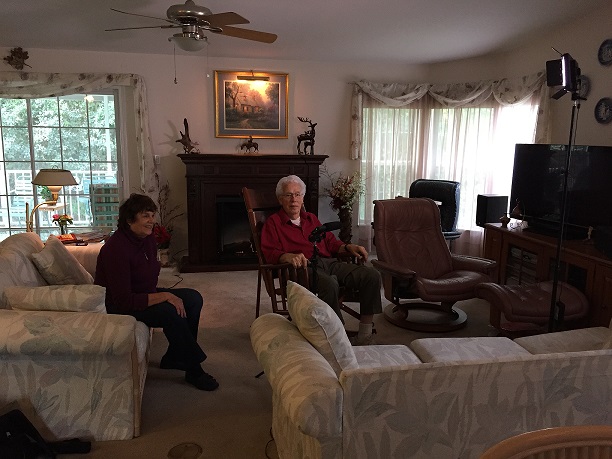 Surprisingly, the process of making A Wonderful Life Production is actually quite simple for the participants. "We are often hired by family members, who understand the importance of a loved one's story," Fry says.
The star of the film and his or her family members collect personal photographs and memorabilia, which are then scanned or documented for inclusion in the film. In conjunction with this process, the AWLP team also engages in a comprehensive discovery process for each client in order to gather archived material to further enhance the end result.
Fry has devised an extensive list of interview questions (140 in total) that he seamlessly incorporates into his recorded conversation with the star. Although AWLP covers a variety of topics and eras in one's life, the process is casual and nothing like a formal interview. "It's just like two friends chatting in the living room—except one friend is really interested in hearing all about the other," Fry explains. "We are trying to create the ultimate discussion."
The interview is organized by major life events, such as the star's ancestry, childhood memories, teen years, young love, military service, marriage, children and family life, careers and lifestyle, travels, hobbies and life lessons. Each of these categories holds the potential for countless questions, answers, anecdotes and lessons to be included in the film. The discussion flows easily to whatever the star is comfortable speaking about.
Depending on the length of the final product, four to eight hours of footage are recorded over a few interview sessions and then professionally edited and compiled into a theater-quality film. AWLP offers different flexible packages that vary in terms of film length (10 to 120 minutes), but each one comes with an uncut version of the interview footage and an indexed memories album containing all the digitized photographs and memorabilia for easier viewing, sharing and storage.
Another aspect of these films that Fry wishes to emphasize is the way that they can complement traditional estate planning efforts. In addition to arranging for the distribution of assets and property, AWLP creates a tangible legacy that can be revisited and shared with future generations. It is a gift that is far more valuable than money. "This endeavor was all about finding a better way to preserve people's stories," Fry says. "Too many get lost every day that are important and need to be saved."
Even if you and your loved one are unable or unwilling to sit down and be filmed by a crew like AWLP, you can definitely take a do-it-yourself approach to preserving your own legacy or that of a loved one. There are countless interview forms and question ideas online that can help you get started.
Although a photo album can be heavy and bulky, simply taking the time to discuss the context of pictures and pieces of memorabilia is a priceless gift to give to a loved one and receive in return.