Arthritis
Caring for a Loved One with Joint Pain and Inflammation
Arthritis Relief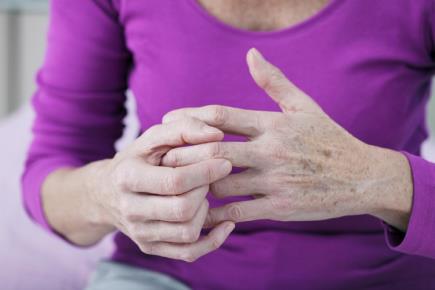 Learn about some treatments and techniques to try when arthritis pain is impacting daily life, and it seems unbearable.
Don't let osteoarthritis slow you down. Treat this disease with simple yet effective diet and exercise options.
Exercise is important for seniors and caregivers alike, but what do you do when arthritis pain makes just getting out out of a chair a struggle? Here are eight tips that may help make working out more bearable for people suffering from arthritis.
Arthritis can complicate the simplest of tasks--even shoe shopping. Discover the truth behind common arthritis myths and learn what to look for when shopping for a comfortable shoe.
Types of Arthritis
When Rheumatoid Arthritis occurs, the body attacks the lining of a joint just as it would if it were trying to protect you from injury or disease.
Osteoarthritis erodes cartilage in joints, leaving bones to rub against each other. The result: The most painful type of arthritis.
The buildup of uric acid in the joints is a form of arthritis known as gout. What causes gout, what are the symptoms, and how is it treated?
Reactive arthritis, also known as Reiter's Syndrome, is caused by the body's reaction to an infection elsewhere in the body.
Learn more about Arthritis
Looking for something specific in Arthritis?
Ask a Question
Reach thousands of elder care experts and family caregivers
Get answers in 10 minutes or less
Receive personalized caregiving advice and support
Senior care by city
Show more cities