Take the Confusion Out of Buying Medicare Supplemental Insurance
Medigap, Medicare Advantage, Plans A through L. Choosing a Medicare supplemental insurance plan can be overwhelming and confusing. Here's a primer to help take the mystery out of Medicare supplemental insurance.
What is Supplemental Insurance?
Medicare supplemental insurance picks up where Medicare leaves off, paying for medical expenses that Medicare does not cover.
Private companies approved by Medicare provide different ways to get your health care and prescription drug coverage. The Medicare plan that you select will affect your out-of-pocket expenses, benefits, ability to select a doctor, administrative convenience, and quality.
There are two types of Medicare supplemental insurance:
Medigap is sold by private insurance companies to fill "gaps" in Medicare plan coverage. There are 12 standardized plans, labeled Plan A through Plan L. Medigap policies work in conjunction with your Medicare plan.
Medigap policies are sold by private insurance companies and are not officially connected to the government Medicare program. Government regulations allow 12 standardized Medigap plans, labeled Plan A through Plan L. Each offers a different set of benefits. All private insurance carriers who offer a given Medigap plan must offer these same coverage levels. However, insurance carriers compete with each other on customer service, monthly premiums, or other features you may care about.
Here are some examples of how plans A through L differ: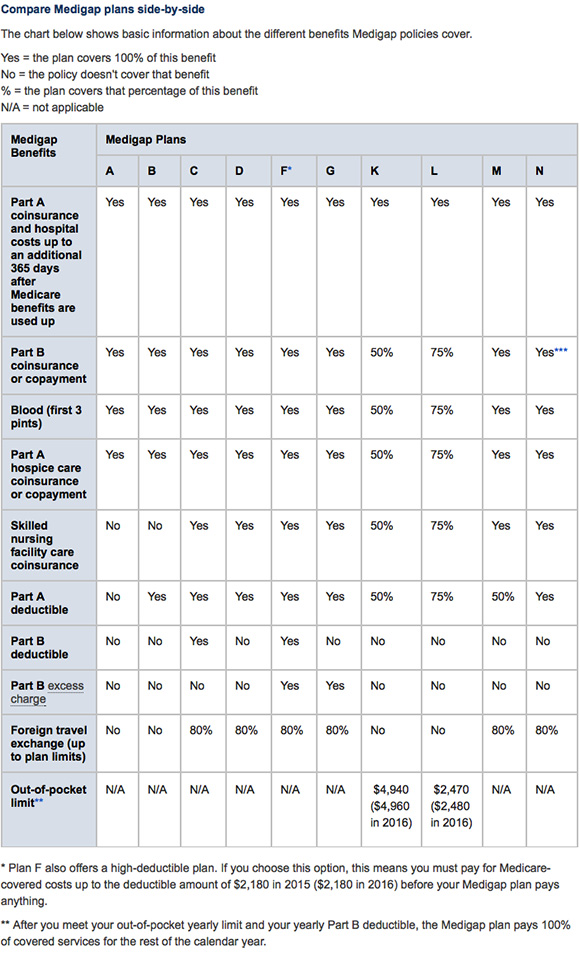 Medicare Advantage is sold by private insurance companies that contract with Medicare to provide you with all your Medicare Part A and Part B benefits. If you are enrolled in a Medicare Advantage Plan, Medicare services are covered through the plan, and are not paid for under the original Medicare Plan. In essence, this insurance pays for your Medicare-covered expenses as well as the gaps. You use a Medicare Advantage card for health care.
Medicare Advantage Plans are also called Medicare Part C. These plans are offered by private insurers. They provide all Part A and Part B coverage and usually offer extra benefits as well. In many cases, the premiums, co-pays and deductibles can be lower than they are in a Medigap policy.
When you join a Medicare Advantage Plan, you are still in Medicare, however the insurance company coordinates with Medicare for you. You deal with the insurance provider directly. Like Medigap, these plans offer extra benefits that fill in the gaps of Medicare. In addition, most MAs include Part D prescription drug coverage.
Depending on which plan you pick, you may be limited to see doctors or go to hospitals that belong to the plan's network. There are three main types of MA Plans: Medicare Health Maintenance Organization (HMOs), Medicare Preferred Provider Organization (PPOs), and Medicare Private Fee-for-Service (PFFS) Plans.
Medicare Advantage plans have a feature called 'maximum out-of-pocket', which sets a limit on the total dollars you are liable for in a given plan year. This number does not include premium payments, but provides you protections in the case of a catastrophic medical event.
Here is a brief description of how each type of MA plan works:
Medicare HMO Plans: Except for emergencies, you generally must get your care from primary care doctors, specialists, or hospitals in the plan's network. 
Medicare PPO Plans: In most of these plans, you can visit any physician regardless of whether they are in or out of the plan's network of participating providers. However, you will pay less if you use primary care doctors, specialists, and hospitals in the plan's network. 
Medicare PFFS Plans: If you join one of these plans, you can go to any primary care doctor, specialist, or hospital that accepts the terms of the plan's payment.
Points to Keep in Mind
Doing your research is the best way to choose the plan that's right for you. Keep these key points in mind when researching Medigap and Medicare Advantage policies:
Plans vary by state and even by zip code.
Different insurance companies offer different packages, premiums and coverages. After you choose whether Medigap or Medicare Advantage is right for you, then you must select an insurance provider.
Both plans have yearly enrollment periods, meaning that once a year,  you have the opportunity to change your plan or coverage.
If you have other health care coverage, such as Medicaid or retiree health insurance from an employer or a union, find out how these will work with each Medicare plan before you make any changes to your current coverage.
Insurance companies who offer Medicare supplements:
Humana 
Aetna
Cigna
Coventry
United Healthcare
For more information on insurance to supplement Medicare, visit www.medicare.gov.